There is always a demand for community garden plots!  At this time, all available plots are leased, but the garden coordinators maintain a waiting list for residents wishing to obtain a plot as soon as one becomes available, and we encourage you to register your name to allow us to track the ongoing need for community garden spots on the North Shore.  You may register on more than one garden wait list in your area, but you may only lease one plot in the community garden network at any one time.
Each garden is pleased to offer handy capable plots for people who might experience mobility issues, and we ask that you let us know if you would like a plot that provides easier access.  Pricing of plots is based on each plot's actual square footage with most plots costing between $15.00 and $60.00 annually.  Some gardens have a variety of plot sizes, while others have more consistent plot sizes due to space limitations, but even the smallest plots offer ample room to grow your food and florals!  Should you be offered a plot that wouldn't be your first choice in a garden, you may take that plot in order to join the garden, and then go on an internal wait list to move to another plot better suited for you when a vacancy arises.   Plots are leased for a one year period, and are renewed each year in March, so newly available plots are allocated in order, to the wait list registrants in March and early April.
If you're not sure whether you live in the District or the City, please see this map: City of North Vancouver. This is an interactive map, and if you are unsure of where you reside, you simply need to type in your street address, and the map will show you where you are. Zoom out, and the red indicator of your location will show if you are inside the dotted lines in the City of North Vancouver, or outside the dotted lines in the District of North Vancouver.
Once you've determined whether you live in the City or the District, the next step is to send an email (links below) to the appropriate garden(s),  for further information or to get on a waiting list for a plot in that garden.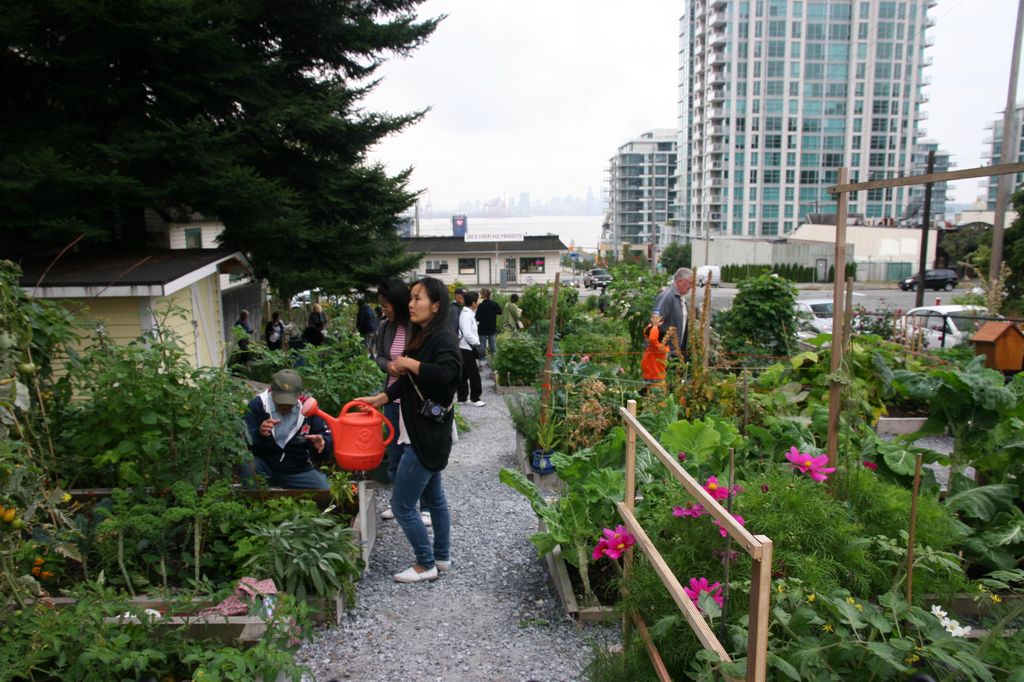 ---
District of North Vancouver residents are eligible for plots in:
Lillooet Park Community Garden – up the hill behind the Holiday Inn Hotel & Suites between Old Lillooet Road and Lillooet Road.  email to: lillooet@nscgardens.ca
Lynn Valley Lions Community Garden – 3590 Mountain Highway at Frederick Road.  email to: lynn.valley@nscgardens.ca
Garibaldi Park Community Garden – midway down Garibaldi, off Mt Seymour Parkway.  email to: garibaldi@nscgardens.ca
City of North Vancouver residents are eligible for plots in:
Queen Mary Community Garden – next to Queen Mary School at the corner of West Keith Road and Mahon Avenue. email to: queen.mary@nscgardens.ca
Charros Community Garden – south of the laneway, at the corner of East 1st Street and St. Georges Avenue (waitlist is closed, garden is being relocated due to development in the area).  email to: charros@nscgardens.ca
Moodyville Community Garden – in the Moodyville area at the corner of East 1st Street and East 2nd Street. (note this is a temporary garden expected to be in place until approximately 2026-2028).  email to: moodyville@nscgardens.ca
North Vancouver City Hall Community Garden – in front of North Vancouver City Hall along West 13th Street between Lonsdale and Chesterfield. email to: city.hall@nscgardens.ca
Eastern Community Garden – On the east side of 1600 block Eastern Avenue.  Eastern Ave is, you guessed it, east of Lonsdale. email to: eastern@nscgardens.ca
Alder Community Garden – alder@nscgardens.ca